The COVID-19 pandemic continues to dominate headlines in Latin America and throughout most of the world. This week, stories about the public health and economic impact of the pandemic continue, with another natural disaster receiving coverage as well.
Latin America has passed a worrying milestone, passing the United States and Canada as the region hardest hit by COVID-19. According to a Reuters analysis, Latin America leads the world with 4.327 million people having tested positive for COVID-19, more than a quarter of the world's 16 million positive cases. Brazil, with 2.4 million positive cases and nearly 90,000 deaths from the virus, drives much of the Latin American figure, but Mexico, Peru, and Chile also find themselves among the top ten countries with the most COVID-19 cases. The United States accounts for 4.2 million cases and almost 150,000 deaths, rivaling the numbers of all of Latin America combined.1
Complicating the response to the pandemic in Latin America is a surge in misinformation and unproven claims about cures. Last week's digest included an update about Bolivia's senate, which approved the use of chlorine dioxide as a cure for COVID-19.2 At least ten cases of chlorine dioxide poisoning have now been reported in the country.3 In addition, social media posts and messages on WhatsApp have peddled miracle cures, promoted conspiracy theories about the origins of COVID-19, and prompted violence in communities. Some videos claim that 5G telecommunications hardware is causing the disease to spread; this rumor led Peruvians in Huancavelica to abduct and hold captive eight telecoms engineers.4 In Chiapas, in southern Mexico, citizens attacked government-run medical facilities and the town hall in response to allegations that the Mexican government was deliberately spreading the virus among indigenous peoples. Misinformation is spreading at roughly the same rate as COVID-19, with politicians and conspiracy theorists spreading their favorite rumors despite a lack of evidence to support their claims.
In recent weeks, there have been claims that Brazilian coffins were being filled with rocks to inflate the country's Covid-19 death toll; that drones were being used to deliberately contaminate indigenous communities in Mexico; that the CIA was helping spread the coronavirus in Argentina; that seafood in northern Peru was not safe to eat because the corpses of Covid-19 victims were being dumped in the Pacific Ocean; and even that the World Health Organization chief, Tedros Adhanom Ghebreyesus, had been spotted boogying and boozing at a bar on the São Paulo coast.

Tom Phillips, David Agren, Dan Collyns, Uki Goñi, "Tsunami of Fake News Hurts Latin America's Effort to Fight Coronavirus," The Guardian https://www.theguardian.com/world/2020/jul/26/latin-america-coronavirus-tsunami-fake-news
Many countries in the Caribbean have banned citizens of the United States from visiting during the pandemic. Other countries continue to allow Americans to visit, citing the need to keep the tourism industry up and running in an era when other economic activities have been adversely affected. For weeks, the Bahamas had allowed visitors from the United States, but last week the archipelago became the latest nation to ban Americans from entering the country.5 On July 1, the Bahamas opened its borders to international travelers; in less than a month, the country of just under 400,000 counted 49 additional COVID-19 cases, most of them located near or linked to tourist hotspots on the island of Grand Bahama. Despite Americans no longer being invited to visit the country, commercial flights from Canada and Europe will still be permitted, although all passengers are required to show proof of a negative COVID-19 test in the preceding 10 days. Nighttime curfews and beach closures are also in effect.
The Chinese government has previously expressed that any vaccine for COVID-19 developed in Chinese laboratories will be made available for global use, rather than keeping the compound a state secret. Last week the Chinese government also stated that they would provide a loan to Latin America to fund the vaccine once it is being mass-produced.6 In a call with Latin American leaders, Chinese foreign minister Wang Yi announced an expansion of the country's Belt and Road Initiative (BRI) designed to facilitate recovery following the COVID-19 pandemic. A Mexican participant on the call later said, "China's foreign minister said that the vaccine developed in his country will be a public benefit of universal access, and that his country will designate a loan of $1 billion to support access for the nations of the region." The BRI is China's foreign aid plan for the 21st century, an initiative designed to improve relations with other countries by helping them fund infrastructure projects. BRI already reaches 70 countries, with investment expected to reach $1 trillion by the program's completion.7 Terms of the proposed loan, such as how the money would be divided among countries or a repayment timeline, are not readily available.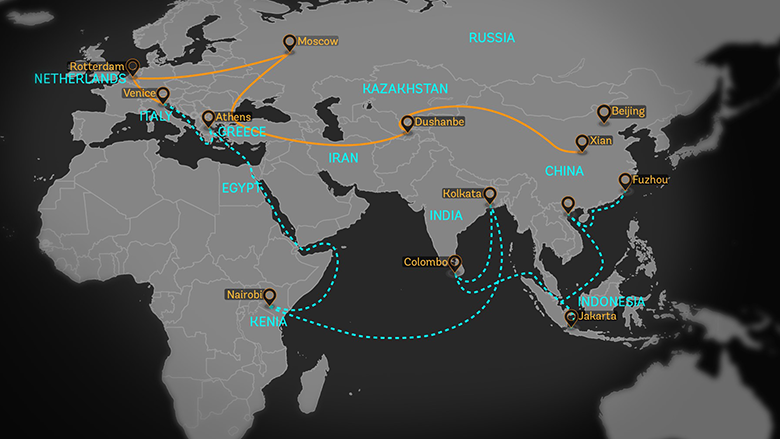 Despite the country's relatively small population, which ranks 63rd in the world, Chile finds itself in the top ten of confirmed COVID-19 cases.8 In recent weeks, thousands of Chileans marched, protested, and obstructed governmental offices in an effort to receive additional governmental funding for those who lost jobs because of COVID-19. The Chilean government had previously announced that it would support its struggling citizens through increased governmental spending, but it recently changed course to allow for early pension withdrawals of up to 10% of saved value.9 Chilean President Sebastian Pinera and others expressed concern regarding the measure, warning that it is likely unsustainable and might have massive negative consequences for the country's long-term economic health. Other commentators have noted that the move will likely boost the Chilean economy in the short-term, while allowing people to pay for necessities like food and electricity. There remain many unknowns about the measure, such as its long-term effects and alternatives for those without pension plans, but the Chilean legislature and president have already passed the law.
Finally, a natural and ecological disaster is unfolding in Pantanal, where wildfires are raging. The Pantanal wetlands—straddling Bolivia, Brazil, and Paraguay—are among the most biodiverse regions in the world. Last year, wildfires in the area as well as in the neighboring Amazon rain forest devastated ecosystems; this year, the fires are even more severe, with observers measuring three times as many.10 Brazil's space agency, Inpe, has photographed the region and recorded 3,682 distinct fires since the beginning of the year. That is a 201% increase from the same period last year, and a massive leap from previous years. This year's total is already the highest since administrators began keeping records in 1998; at this time in 2018 there had been 277 fires in the area.11 In addition to being home to anaconda, jaguar, anteater, and monkey variants, Pantanal is home to thousands of species of plants. Officials note that in addition to the biodiversity at risk in the fires, human communities are threatened with economic loss and home devastation, as well as fire-related injuries.